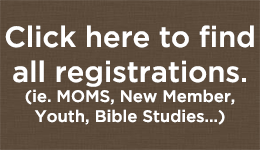 MAKE SURE TO CREATE A USERNAME & PASSWORD! Don't have an account? Click to the right of Sign In button click "Sign Up"; Create an account THEN check email to ACTIVATE your account, then you can log in with your username & password.
Quick Link Registrations
Credit Card Offering or Payment Information
To make an offering, payment, or to view your contributions, LOGIN with your username and password. Then Click "Your Giving"
Don't want to sign in to give or pay:
Click GIVE NOW at the top to make a payment or offering without logging in.